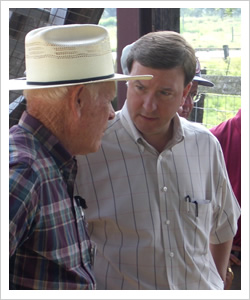 Strengthening East Alabama's Economy
In tough economic times, Mike Rogers is a strong advocate for lowering taxes for all working Alabamians and strengthening America's economy. Mike is committed to keeping and creating jobs in Alabama, and will oppose any trade agreement that does not promote fair trade for East Alabama interests.
Lowering Gas Prices, Supporting Alternative Fuels
Hard working East Alabamians are getting hammered at the pump. To help lower energy prices over the long term, Mike Rogers believes we need to end our dependence on foreign oil. As a member of the Committee on Agriculture, Mike believes to help make that happen our nation must, first, increase our domestic production of energy. Mike Rogers supports lifting immediately the ban on environmentally safe domestic energy exploration in the Arctic National Wildlife Refuge (ANWR) and the Outer Continental Shelf. Second, because our nation will not drill its way to energy independence, Mike Rogers believes Congress must dramatically increase its support for home-grown, American-made alternative fuels and renewable energy sources that will help lead to our energy independence.
Securing our Borders, Fighting Wasteful Spending
As a senior member of the Homeland Security Committee, Mike Rogers has worked to help strengthen our borders and slow the flow of illegal immigrants into our country. Like the vast majority of East Alabamians, Mike opposes amnesty of any kind. As a key member of the Oversight subcommittee, Mike has also worked hard to tackle wasteful spending and evidence of fraud and abuse in the Federal government.
Strengthening Medicare & Medicaid, Protecting Social Security
Supporting a good first step toward providing prescription drug coverage through Medicare, Mike Rogers worked hard to provide many of our seniors relief from skyrocketing drug costs through the new Medicare Prescription Drug Program. Mike's support of the Medicare Modernization Act in 2003 helped provide over $900 million for rural healthcare in Alabama over the following ten years. Mike Rogers' strong leadership in Washington is helping our communities keep quality doctors and nurses working for Alabamians instead of going to big cities like Atlanta. With healthcare costs continuing to rise, Mike also supports common sense solutions for helping lower healthcare costs, like Association Health Plans. Mike strongly opposes privatizing Social Security, and is committed to doing all he can to ensure our most vulnerable Alabamians have access to a strong and essential Medicaid program.
Fighting for Conservative Values
Mike Rogers is fighting for your conservative values in Congress. With the support of the National Right to Life and National Rifle Association, Mike is working hard to protect the rights of the unborn and the Second Amendment rights of freedom-loving sportsmen across America. Taking a strong stand against abortion, Mike supported President Bush's recent ban on partial birth abortion.
Improving Education
As the father of three school-aged children, Mike Rogers has supported billions in additional funding for our schools. Mike has also supported efforts to update the No Child Left Behind act to better meet the needs of our rural schools and teachers.
Strengthening Our Military
Helping our military prosecute and win the war on terror, Mike Rogers sits on the powerful Armed Services Committee and is committed to fully-funding our armed forces. Mike has consistently supported increased funding for the Departments of Defense and Homeland Security to help provide safety and security to American families.
Standing Up for the Third District's Military Facilities
Mike has worked hard to help protect Alabama's military installations from the Base Realignment and Closure Commission (BRAC), while protecting thousands of jobs in the Third District. Mike is proud to do all he can to help protect, strengthen and support the Third District's three vital military facilities – the Anniston Army Depot, Fort Benning, and Maxwell-Gunter Air Force Base – and the thousands of civilians that work every day in support of our men and women in uniform.
Caring for Our Veterans
As a member of the powerful Armed Services Committee, Mike Rogers was proud to support the recent GI Bill, which was signed into law earlier this Summer. This critical piece of legislation offers a permanent expansion of GI Bill education benefits for many Veterans, and included in the final version of the bill an expanded benefit to allow Veterans to transfer their educational benefit to family members.