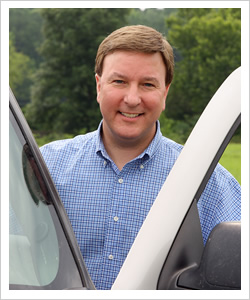 Mike Rogers, 54, was first elected to the United States House of Representatives in November 2002. He represents the Third Congressional District of Alabama.
Mike is the son of a textile worker and fireman, and is a fifth generation resident of East Alabama. He graduated from Saks High School and attended Jacksonville State University. There he earned an undergraduate degree in Political Science and a Masters of Public Administration.
Mike was elected as the first Republican and youngest member of the Calhoun County Commission at 28 years old. During his time on the commission, he also worked for The United Way in Calhoun County. He and his wife, Beth, worked their way through the Birmingham School of Law at night, and after graduating with honors, he began a general law practice in Anniston and later started his own firm. He has also been a small business owner.
Mike and Beth have been married for over 25 years. They reside in Weaver with their children Emily, Evan and Elliot, and attend the same church, Saks Baptist, that Mike's grandfather attended.
In 1994, Mike was elected to the Alabama House of Representatives. Four years later, he was elected to become House Minority Leader.
Today, Mike serves as Chairman of the Transportation Security subcommittee and a senior member of the Armed Services Committee.

Bio quick facts:

Name: Michael Dennis Rogers
• Age: 54; born July 16, 1958
• Home Community: Saks, Alabama
• Family: Wife Beth, daughter Emily, sons Evan and Elliot
• Education: BA (1981) and MPA (1984) from Jacksonville State University; JD from Birmingham School of Law (1991)
• Former Occupation: Anniston attorney and businessman


Committees: